Dr. Oz Show Introduction:
On October 17, 2012 – just weeks prior to the November election on which a California ballot initiative proposed to make sweeping changes to the way foods are labeled, Jeffrey Smith (a previous program guest) was invited by Dr. Oz  to share his views on the health risks of GMOs on his nationally syndicated television program.  Dr. Oz also invited GMO labeling advocate and organic food CEO Gary Hirshberg on the show to lobby on behalf of the California initiative known as Proposition 37.  Two respected academics from the University of California at Davis also agreed to appear and respond to Smith and Hirshberg's claims about agricultural biotechnology (which these activists prefer to call 'genetically engineered foods').
Click here to download a PDF transcript of the Dr. Oz program.   Academics Review has posted the various segments of this show with comments from academic reviewers about the accuracy of claims made here: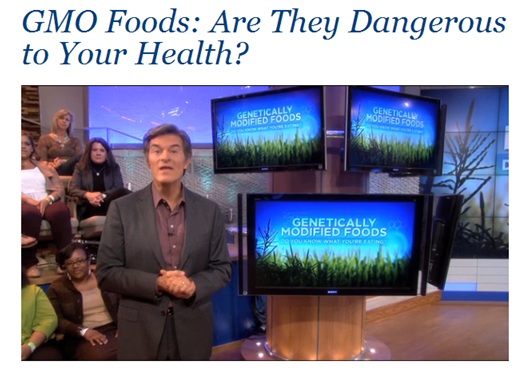 Dr. Oz introduction: I'm throwing out a term today that affects what you're eating each and every day. Genetically modified foods, well you're probably eating them right now and don't even know it.  And a new report claims they can damage your health and even cause cancer.  But some experts say they're inexpensive and healthy way to put dinner on your table.  Are they safe?  Should they be labeled? What do you need to know?"
Voiceover on images: "It's the brave new world of food and it's probably already on your plate.  Scientists can now take DNA from one species, a plant, bacterium or (emphasis added) even a fish! and add it to another.  The goal?  To produce bigger crops, ward off plant diseases and ultimately lower the price of the food on your table.  Introduced less than 20 years ago, nearly 90 percent of the corn, soybeans and sugar beets grown in America have been genetically modified.  As a result, experts estimate up to 3 out of 4 of your favorite foods have been genetically modified. Many of these foods have been banned by some European countries and even in Peru.  But the FDA says they are not harmful.  There's enough controversy that Californians will soon vote to decide if genetically modified foods should be labeled. You have a right to know what's in your food.  So what do you need to know about genetically modified foods?"  
Scroll down to view or submit comments on this segment.
Click her to view next program segment.