ERS-USDA Research Report:  Grade A-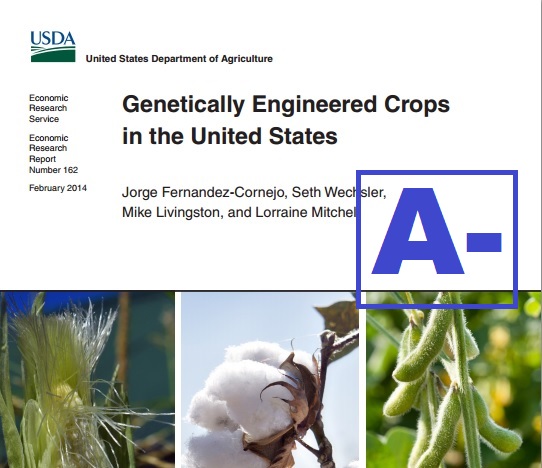 This detailed report analyzes the impacts of planting GE crops in the US over the past 15 years. The ERS authors present a robust data set illustrated in excellent graphs and tables and organized in a logical topical order that document economic, agricultural and environmental benefits.  The discussion of concerns about GE crops often lacks context and over-simplifies issues which should have been discussed with additional nuance and depth.  A few points were deducted for repeating allegations without affording them proper analysis.
Click here to view the USDA report: www.ers.usda.gov/publications/err-economic-research-report/err162.aspx
Conclusion: highly recommended reading.
————————————————————————————————————
Reuters Report. Grade D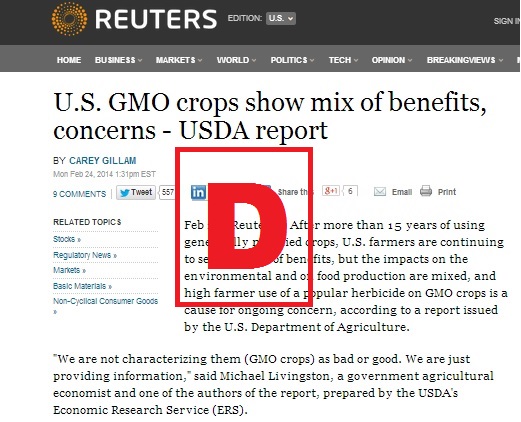 This report on the recent publication by the ERS-USDA "Genetically Engineered Crops in the United States" fails to cover a number of important points and distorts the findings of ERS researchers.  While the bulk of the ERS report provides voluminous well-analyzed data on the positive economic, agricultural, and environmental outcomes of the rapid and widespread introduction of GE crops in the US, the Reuters report portrays the report more as a discussion about potentially harmful outcomes.  
Conclusion: look elsewhere for accurate news reporting on the ERS-USDA report.
To read full text of Reuters report by Carey Gillam click here: www.reuters.com/article/2014/02/24/usda-gmo-report-idUSL1N0LT16M20140224
About Grading the Science:
Follow this space for more Academics Review constructive reviews of science-related content as our collaborative of independent academic peers reviews reporting by various sources for scientific accuracy.  
Academics Review is dedicated to providing unbiased expert reviews of publications making scientific claims.  While we have focused our in-depth reviews on debunking flawed and psuedo-scientific papers we have come to realize that there is also a need to highlight outstanding reports that make an important contribution as well.  Further,  we intend to increase our more frequent and top line reviews of the way science gets reported in the media to provide constructive academic assessments that we hope will result in improved scientific accuracy in the presentation of related information to the public.
Filed Under: Grading Science